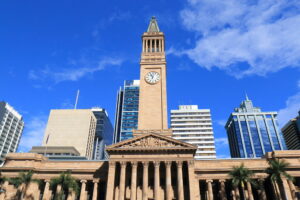 Davell's storage lockers with digital combination locks are playing a vital role in the functioning of one of Australia's vibrant museums, the Museum of Brisbane.
All over the world, museums rely on their visitor locker facilities. Museums have a dual role of protecting extremely precious content while encouraging the public to engage with their collections, which calls for reliable lockers that visitors can access easily. That's where Australian company Davell was able to meet the needs of the Museum of Brisbane.
Davell Products has been manufacturing since 1946, supplying quality steel products of all shapes and sizes to a wide variety of customers.
The Museum of Brisbane chose Davell's lockers combined with a Lowe & Fletcher digital locking system.
The public mode function of the system allows for the digital lock to be opened and visitors to select their code to secure their items in the locker.
The museum is located in the gorgeous Art Deco city hall building. It houses a unique collection of art, artefacts and archives that showcase the history and traditions of Queensland's sunny capital city.
If you need to acquire or update visitor hire lockers for your institution, get in touch.
We have decades of experience providing robust lockers that service the public who visit museums and galleries, libraries and universities, or swim centres and gyms.