Self-Based Mechanically Assisted Mobile Shelving (Compactus)
Designed for large capacity and heavier load storage requirements, Davell's Australian Made Mechanically Assisted Mobile Adjustable Shelving provides high density storage allowing you to free up valuable floor space.

Available in a large range of lengths, widths, depths and colours, our Compactus units can be configured to your individual requirements.

The base or platform is the integral part of each Compactus and is manufactured from heavy gauge tubular galvanised steel.
Bases are constructed to be fully adjustable for both height and level allowing the fabricated mobile trolleys to effortlessly glide on case hardened bearings for quiet and smooth operation.
Compactus units are available with single or double entry bays which can be fitted with external dress panels and either powder coated to suit your office decor or supplied with printed images.
An extensive range of accessories are also offered to compliment your mobile storage unit.
Shelving Heights: 1803, 1980, 2210mm
(Add 155mm for overall unit height)
Widths: 762, 915, 1050, 1220, 1830 (915/915)mm
Shelf Depths: 305, 400, 457, 610mm
(Add 20mm for overall bay depth)
Download Mobile Shelving Quotation Form

Watch Video
Colour Chart
Standard Colour Range
Brights
Traditional
Precious® (Pearlescent Finish)
Textura® (Fine Textured Finish)
Scylla® (Ripple Finish)
Hammer® (Two-Tone Ripple Finish)
Aztec® (Two-Tone Ripple Finish)
Click on images to enlarge
---
Premium Colour Range
* The following colours are available at an additional charge over Davell's Standard Colour Range.
* Minimum quantity of 10 lockers.
Electro® (Shimmer Finish)
A unique anodised look, designed to subtly change in appearance as light conditions change.
Sablé™ (Fine Textured Finish)
Sablé Core Ten mimics the textured, rustic and distinctive appearance of corten steel.
Clear Coat (Matt)
Products using Clear Coat will show blemishes and marks from production processes which are fully visible. Variations in material and components are normal and form part of the overall effect. The product has visible weld marks, witness marks (fold and scratch marks from the manufacturing process) and may have traces of rust which is part of the industrial aesthetic and does not affect the quality of the material or its function. Each product will vary and have its own unique characteristics.
* Minimum quantities apply.
Click on images to enlarge
---
Please Note:
Some variations in colour may occur due to differences in screen resolution and therefore should be used as a guide only.
---
Special Purpose Powder Coat
Anti-Graffiti
A durable powder coating that allows the simple and rapid removal of most forms of graffiti, reducing overall maintenance costs and ensuring the appearance of powder coated surfaces are maintained.
Surface damage caused by markers, spray paint and other forms of graffiti can be easily cleaned using common solvents without causing dullness or damage to the finished coating.
Download Anti Graffiti Brochure
Antimicrobial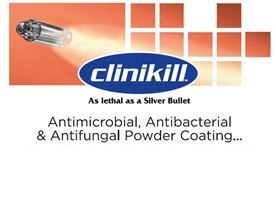 Dulux's Clinkill Antimicrobial, Antibacterial & Antifungal Powder Coat.
Clinikill has been developed to be used in areas where there is an obvious need to maintain a low level of microbes e.g. medical, food and catering, however, it is also effective in areas where there is high human traffic such as locker and change rooms.
Download the Clinikill Brochure

For further information call Davell on FreeCall 1800 069 105 or 02 9521 4333.