Locker Power System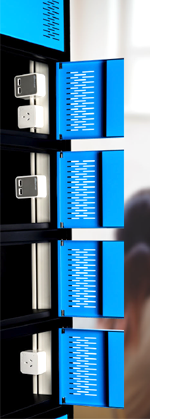 Movable power… wherever you want it, whenever you need it.
Introducing Davell's Locker Power System, this innovative solution can be fitted to our range of Australian made lockers to charge laptops, iPads, notebooks, mobile phones and other portable devices including power tools… actually any rechargeable gadget.
Lockers supplied with this system are available as single or multiple units connected together utilising only one power lead (limitations apply).
How it works.
The Mainline™ powered track that runs the full length of each locker contains three copper strips (busbars) which carry the live, earth and neutral cables of the power supply and houses them in a safe, discreet manner so that they are only accessible through specially designed sockets.
The powered track accommodates 240 volt GPO sockets, dual USB sockets and the soon to be released USB-C socket.
Simply insert one of our power sockets into the track and twist 90° clockwise to make a connection.
Each socket can easily be inserted anywhere along the track.
To release, just push a button and turn anticlockwise.
To secure the socket on a permanent basis insert a specially supplied screw in the side to prevent unlocking.